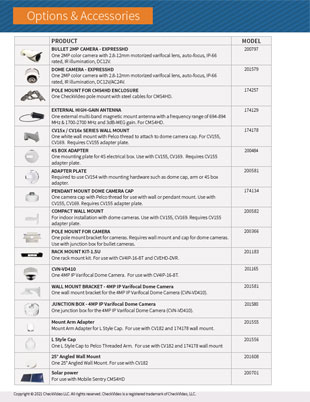 Current options and accessories
If you have questions about any of the information on these documents, please fill out the form on this page and a CheckVideo representative will be back in touch within one business day.
Recent Tweets
CheckVideo introduces the CheckVideo 4 Megapixel Outdoor Dome Camera model CV169A. The CV169A includes audio line output for connection to an amplified speaker. Perfect for remote locations, the CV169A combines video analytics with audio talk down.
https://www.checkvideo.com/checkvideo-announces-the-cv169a/
Read about how CheckVideo protected a $65 million apartment project. Installing a carefully planned system of security cameras was an important step for ensuring safety and security. Read more https://www.checkvideo.com/the-jane-case-study/
Load More...